What is a Good Question?
60,000 individual hits later.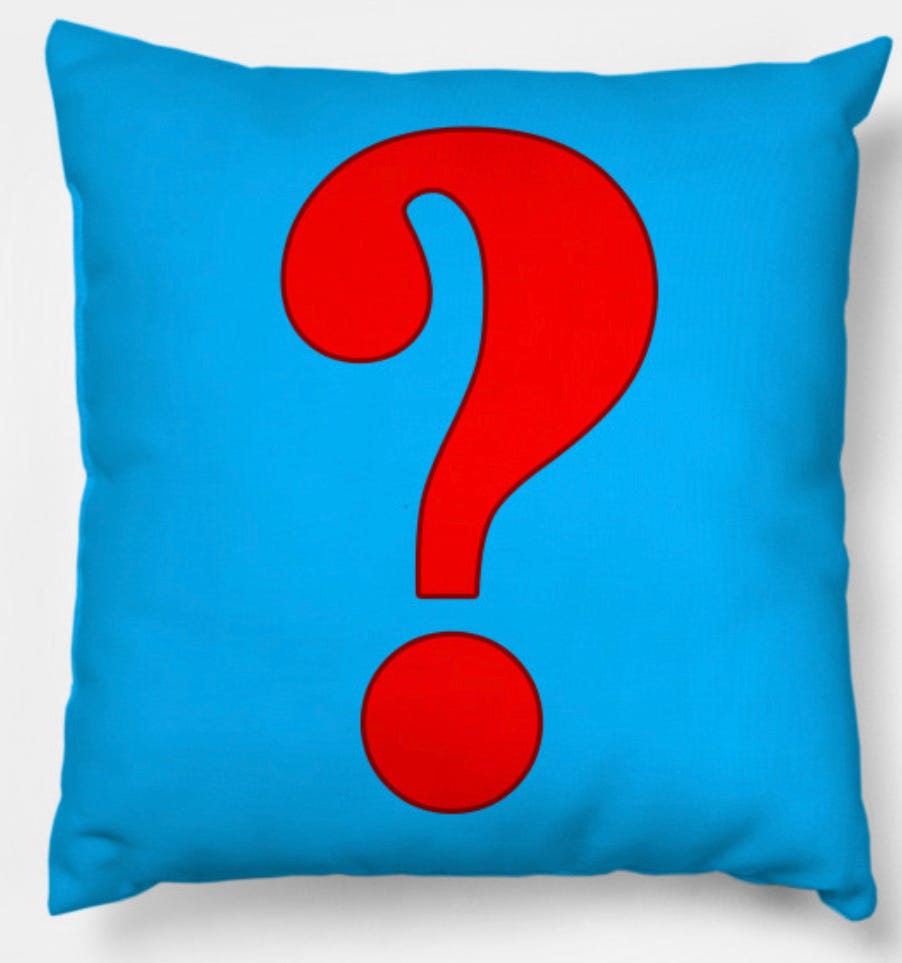 Below I've typed out the opening paragraphs of a new book I'm writing, in which I'm trying to take my initial essay about teaching theory and turn it into a workbook for both teachers and students of critical theory. For the next few months I'm going to be doing some free writing into this space while I figure out how to do that. The original essay on the Avidly website had 60,000 individual hits over almost four years. Which is like not a lot in a celebrity way but a lot for a little academic person like myself.
When I was speaking to an editor about writing this book, a few thoughts came to mind: the first is that I wrote this essay in one night but I also wrote it over ten years of teaching theory. I was profoundly not prepared for teaching at a liberal arts college and the truth is, after 17 years, I'm not really stoked about going back to the same gig after my current leave and continuing to do the same kind of teaching I've been doing for this whole time. In my entire life I never planned to stay at the same job this long. So a very real question for me, as teaching is what pays for me to make the time to write is, how do I stay alive and present in my teaching. It is unethical to be anything less than the best teacher you can be, this is just a true thing. But for me, at mid career, I am finding it really hard to stay excited about the same kind of classroom as I've had for many years already.
The truth is, I've never once in my life woken up and said: oh my god I can't wait to teach today. Pretty much almost every thing in my life that comes between me and writing, even family sometimes, is something I resent. Writing is my happy place. Writing is what I live to do.
And yet, when I walk into a room of interested people, I am energized. I do want to be inside a text with them, I do want to think out loud and I am thrilled by their ideas too. The rest - designing the class, grading, doing emotional labor of answering emails and all that, I could live without. I truly resent the administrative part of teaching. But the classroom, the conversation, the probing of a text: I love that part. Just, learning. And talking. Being in an inquiring community. Same for the best conference panels, small conferences, seminars, salons, co-writing, conversation. I'm sapiophilic through and through.
So the challenge for me is to bring my teaching practice as near to my research practice as possible. Because when they live together, I am energized and excited by both and I don't resent it so much.
The turn to generating questions as a central teaching practice has thus very much been about working to bring students to where I want to live, which is at the edge of what I know. There are of course times to teach what one knows thoroughly: at the beginning of a class, while we are building some shared skills. But there are also times to dance at the edge of knowing; being a teacher who isn't afraid to not know in the classroom has enabled me to invite my students to know what they know more fully, I think. That is, I try invite them in to teach, as well.
When it works, teaching good question-writing then, is inviting my students to become teachers themselves.
***
What is a good question? And, how do we teach students to work at writing good questions? In my feminist and queer theories class, a core course in the Gender and Women's Studies curriculum that I've been teaching for quite a few years now, students each have to develop discussion questions about an essay or work they will be presenting to the class.
Borrowing an exercise from one of my own mentors, Linda Hutcheon, during the first few weeks of the semester I have students write discussion questions out and hand them in to me. I then respond to their questions with feedback about how to rewrite their questions so as to provoke a deeper engagement on the part of the rest of the class. I also provide a handout I've named "some notes on how to ask a good question about theory that will provoke conversation and further discussion from your colleagues" and I attach it to the back of most of my syllabi. I provide another handout that serves as a standard handout for teaching theory, one that I adapted from my own quals writing
I like this exercise because it not only gives me an early sense of the feel of the class but, more pointedly, early intervention into discussion-question writing helps shape the conversation in the classroom for the rest of the semester, making asking questions more important than performing a perfect mastery of the text.
***
This is how my teaching essay begins and it's a meta exercise on a few levels. First, student have to type those questions out. Do not bring me a handwritten note, or anything like that, you will get a zero. So first lesson: we are professionals in this class, or at least, we are beginning to model the kinds of behaviors and practices that we will be rewarded for later, as professionals. Type and print the question. Factor printing queues into your time management.
Second lesson: write your draft, then rewrite it, then write it again. Have your friends read it. Don't waste my time with your first draft. Factor drafts into time management.
The third lesson here is, and this is the real teacherly question: how can you build a bridge from your brain to the world. What information do your colleagues need to have to think with you. Teaching students how to read and then teaching students how to make reading a collective practice is the work of both listening to their own habits of mind, but then also making their intellectual interactions with each other as hospitable as possible.
I think often here about a study I read once, about how aggressions, biased interactions, and micro-aggressive encounters make people test lower. The work of a great classroom is to create a hive mind: we all go to work on the same problem, albeit in different ways, and we share our thoughts with each other. If your question is capacious, if it scaffolds its own thought processes, if it invites people in to a problem you have encountered, you lift everyone in your circle upwards. We each become our most intellectually capacious self because of the care we have put into our relations with each other.
A good question, put to a group of people, puzzling over a shared text, is an exercise in lifting each other up. That's the fourth part of the question exercise. The student is the teacher, the teacher is the student. Except of course in the ways that we are not, where they have to trust me to hold the classroom as a container for right action and adventurous thought, and then of course in the work of evaluation. Thinking about the ethics of that work is for a column-to-come.